Google Enhances Product Discovery With Visual And Text Search
Visual and text search options have been added by Google to make it easier to find new products.
Google wants to make it easier to find exactly what you're looking for in visual search queries with a new 'multisearch' option that allows users to combine visual and text parameters to expand their search results.
As seen in this example, searchers will now be able to add additional parameters to visual search queries in order to further refine their results and hone in on exactly what they're looking for, thanks to Google's new multisearch capability, which is powered by its evolving AI and machine learning tools.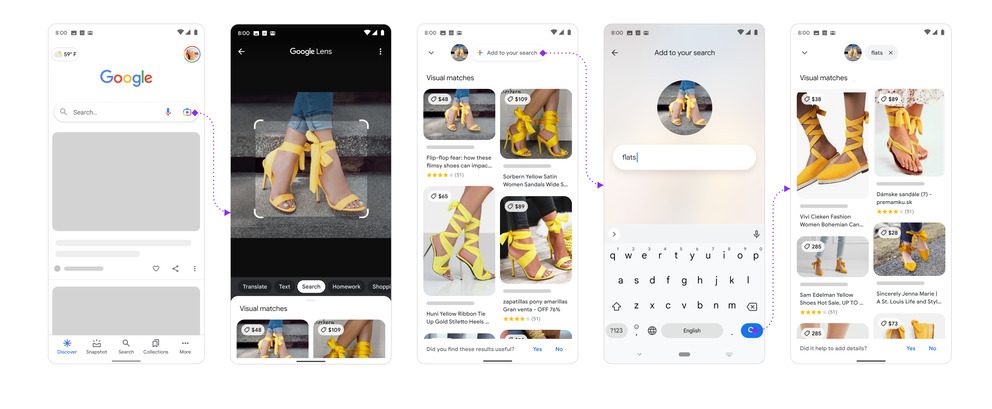 According to Google:
"You can use multisearch to ask a question about an object in front of you or to refine your search by color, brand, or a visual attribute."
That could open up a whole new avenue for improving your shopping search results by incorporating visual cues. With over a billion people shopping on Google every day, the platform remains a key facilitator of eCommerce discovery, which it's also looking to improve with 'more searchable google results' for fashion and apparel shopping queries.
Visual search qualifiers may also play a larger role in the future when augmented reality glasses and other visual tools become available.
As consumers become more familiar with visual references and the ability to capture visuals using their glasses, the ability to include those same aspects in search may become a far more significant discovery feature.
It's fascinating to see how Google is attempting to stay ahead of this trend while simultaneously providing an immediate utility for refining search queries and capitalizing on the expanding popularity of online buying alternatives.
You can also provide us with your feedback at ask@urbanarts.pk   Reach out to the leading digital marketing team of URBAN ARTS  or call us at +92 (51) 2724965 at any time we will be happy to assist you.
With the right mindset and the right information, anything can be accomplished. If you'd like to add more to this article, share your thoughts below in the comments section.
Let's do the FIRST DIGITAL HANDSHAKE with URBAN ARTS!!!