Ways to Market Your Virtual Event
Virtual events are an excellent way to connect with your target audience. Virtual events can be an excellent choice for reaching a larger audience or providing live-event options for people who are unable to attend in person. Attendees at virtual events can interact virtually with your brand, your event, and each other. So, what exactly is a virtual event? And how do you market your virtual event effectively?
That is precisely what we will discuss in this article.
Why Virtual Events are Important for Businesses??
The primary advantage of virtual events over regular events is that they are not limited by geography. You may reach your target market no matter where they are by using the internet. Place yourself in the shoes of the customer. When someone wants to promote something to you, they not only ask for your time and energy, but they also want you to travel to the location where their event is scheduled. Doesn't that seem like a difficult task?
That is precisely what a virtual event solves. It helps to save time, energy, and money on all sides while reaching a larger audience.
Types of Virtual Events
Virtual events can come in many different forms. And the type of virtual event you wish to hold should be determined by your virtual event marketing plan. So, let's take a look at some of the various varieties, so you can make an informed decision.
Webinars
Online Courses
Virtual conferences
Online trade shows
Webinars
Webinars are online meetings that take place on Zoom, Meet, or other live streaming platforms. Marketers make use of webinars. Webinars are ideal for presenting with a list or a community because they generate leads, establish an audience, and help to grow a contact. A good webinar can potentially influence search engine results. This could be a stand-alone event or part of a bigger virtual event.
Online Courses
Online courses are long-form information delivered through a platform. Online classes can teach people about your product, service, or business. If you're a B2B marketer, you should undoubtedly host an online course on LinkedIn and then utilize paid marketing or promotions to attract your target demographic.
Virtual Conference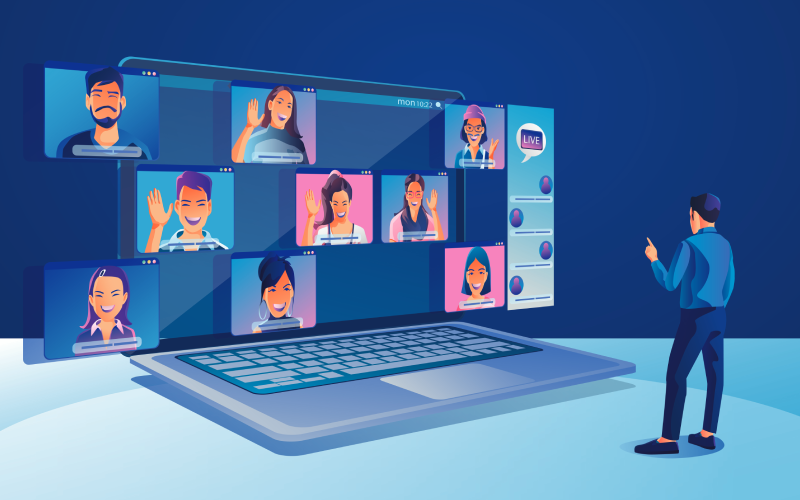 Virtual conferences provide numerous benefits to businesses, including enhanced brand exposure, lead creation, and connection building. Virtual conferences, as opposed to simple virtual meetings, typically last several days and contain features such as keynotes, panel discussions, training sessions, and instructional content. A virtual conference may be the ideal way to interact with individuals who share your interests and learn more about your industry.
Online Trade Shows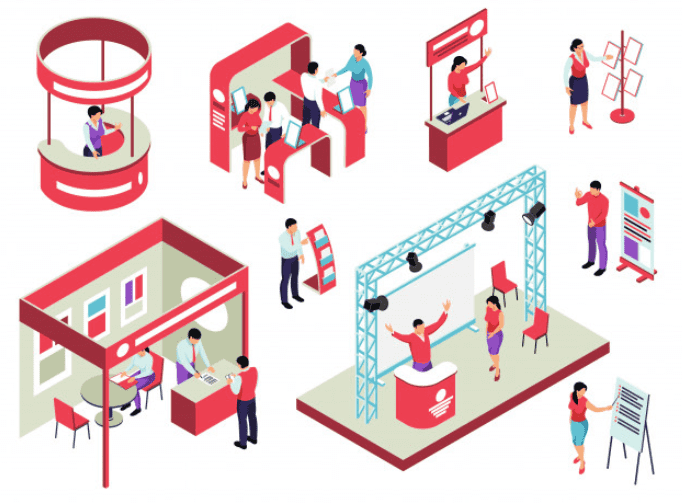 Online trade exhibitions can deliver the same experience as a face-to-face trade show, right down to the exhibition hall door. Organizations may engage with their audience more effectively by establishing an immersive and dynamic virtual trade fair experience, boosting traffic to their online store, and maximizing profit.
Six Ways to Promote Your Virtual Event
So, how do you market your virtual event to increase notice and attendance?
Employ Niche Influencers to Promote Your Virtual Event
Influencer marketing can be a powerful tool for reaching out to potential conference attendees. Finding the proper TikTok influencers who align with your target audience,  can help you create relationships and provide content that will help them understand the worth attending your event. Onboarding important influencers as speakers or having them post content about the virtual event are two methods to accomplish this.
To discover the relevant influencers, first determine your target audience, which you should have done when developing your virtual event marketing strategy. If not, start there, and then look for persons or groups with clout within that community. Once you've identified a few suitable partners, reach out to them and begin building relationships with them. Finally, offer them something of value in exchange for helping them advertise your conference to their followers, whether it's cash or a free ticket to your event.
Customer Feedback 
User-generated content, such as testimonials, is an excellent method to incorporate into your virtual event marketing approach. One method is to include testimonials from prior attendees or sponsors. This gives potential guests an idea of what to expect from your event.
You may increase the visibility of your event by publishing quotations, remarks, or even short video testimonials on social media platforms, email marketing, blog articles, and your registration page. Because this can be a lot to tackle at once, you can plan social media updates utilizing market-available tools, making posting material a far less time-consuming chore.
According to a WyzOwls 2020 survey, 9 out of 10 individuals trust what other people say about a business more than what the business says about itself. As a result, when prior attendees tell your audience that your event is fantastic, they are bound to believe them.
Run Ads to Market Your Virtual Event
 If you have the time and money to promote your event, you may utilize social media ads to get the word out.
The most crucial component of running ads in a virtual event is selecting the right platform.
When advertising, you want to make sure that your money is being maximized, and in order to do so, you must first understand who your audience is so that you can select the most appropriate platform.
If you're hosting a webinar on TikTok content creation, for example, it makes sense to use TikTok and Instagram as advertising platforms. LinkedIn, on the other hand, would be a far better alternative if you were hosting a webinar on B2B sales strategies.
Offer "Early-bird" Incentives for those that RSVP early
Offering a compelling incentive for guests to RSVP and commit to attending your event early is critical to its success. Get their attention by providing something of value that is only available if they RSVP within a specified time range. Because they are in a time crunch, this will urge them to make a rapid decision.
If it's a paid event, such as a conference, then you might offer an early bird discount. Or perhaps you're willing to offer a complimentary happy hour for the first ten folks who RSVP. The possibilities are limitless.
Offer Merchandise to Attendees
Offering complimentary products to guests, like personalized mugs with your logo, is a wonderful method to increase registrations for your virtual event.
For example, if you're hosting an online calligraphy session, you can give guests a complimentary calligraphy pen just for showing up. It will not only encourage people to register for the event, but it will also allow you to sell your company through products. Each of your attendees now has a calligraphy pen with your brand name on it, and it's very likely that they'll spread the word about your business without even realizing it, simply by using the pen you gave them.
When providing free products, keep in mind that the merchandise should be relevant to your target demographic. The more relevant the retail offering, the more likely your audience will become event attendees.
Send Emails
As a business, you've most likely amassed an email list over time, whether from customers or people who signed up for your newsletter. It's critical to use these emails to raise awareness for your virtual event and get things started.
Because everyone on your email list has given you their email address voluntarily at some point, they are a warm lead. Create a drip campaign that converts them into event attendees.
Rather than overtly promoting the event, attempt to deliver value to consumers so that they feel compelled to register for your virtual event in order to learn more about the subject.
Final Thoughts
Coming up with a virtual event marketing strategy might be difficult, but the ideas covered in this article will help you make your event a huge success and provide you with plenty of marketing ideas.
Start your approach off right with a virtual event plan.
You can also provide us with your feedback at ask@urbanarts.pk   Reach out to the leading digital marketing team of URBAN ARTS  or call us at +92 (51) 2724965 at any time we will be happy to assist you.
With the right mindset and the right information, anything can be accomplished. If you'd like to add more to this article, share your thoughts below in the comments section.
Let's do the FIRST DIGITAL HANDSHAKE with URBAN ARTS!!!